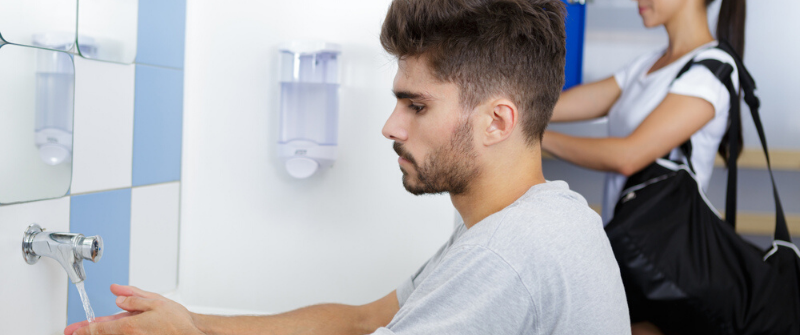 Hitting the gym has always been a way to stay healthy, but now your patrons may be worried it could get them sick. We've put together some tips on how to reduce the risk of Coronavirus (COVID-19) spread at your gym.
Please note, Coronavirus information is rapidly being updated. Always check the latest information from the U.S. Centers for Disease Control and Prevention (CDC) for full situation summary and recommendations.
Risk of Coronavirus Spread at a Gym
Because the Coronavirus is a new disease, researchers are still learning how it spreads, but person-to-person transmission is the most common, according to the CDC. This means that if you are in close contact (within about 6 feet) with a person who has the virus, you're at risk of becoming exposed to germs through respiratory droplets. Less commonly, you can be exposed indirectly by touching surfaces that have been exposed to the virus. Gyms and fitness centers are businesses that see a high volume of public traffic, making the spread of Coronavirus a real risk. With some preventative measures, however, you can help reduce risk to your clients and staff.
9 Coronavirus Preventative Measures Gym Owners Can Take

1.           Come up With a Plan and Communicate it With Staff
Planning is the key to reducing the risk of Coronavirus spread at your gym. Communication is the key to preventing panic. Come up with a plan that's right for your business, using the tips below or the most current recommendations from the CDC and your local public health officials.
Hold staff meetings letting them know what you are doing to keep them and clients safe—and let them know what expectations you have for them. Make sure staff know that they need to stay home if they feel sick! You may worry that such steps will alarm staff, but it will likely be the opposite. They may feel reassured that you have a plan in place and will appreciate understanding your expectations of them.
2.           Make Washing Hands Part of the Culture
Starting with your own staff, make handwashing a clear and important part of the gym's culture. Experts agree that the first defense for the spread of Coronavirus is to wash your hands. Viral droplets can't pass through skin, so in order to get infected, they must enter the body through the eyes, nose or mouth. Hand washing and avoiding touching your face are key ways to prevent the spread of the disease.
Share information your staff emphasizing the importance—and expectation—of proper handwashing. Check out this resource from the World Health Organization (WHO) on how to wash your hands the right way.
3.           Amp Up Your Cleaning and Disinfecting Efforts
As far as researchers know, sweat from an infected person doesn't carry the virus, but respiratory viral droplets could still end up on equipment and in other areas. The good news is that proper cleaning and disinfecting easily kills Coronaviruses. You should increase the frequency with which your equipment and highly-trafficked areas are cleaned.
Check out these recommendations on cleaning and disinfecting from the CDC.
It's a good idea to check your cleaning products against the Environmental Protection Agency's (EPA) list of registered products for use against the Coronavirus. Make sure your cleaning products and wipes used to clean equipment meet disinfecting requirements. If you're unsure, reach out to your vendor.
4.           Offer Disinfecting Wipes and Hand Sanitizer

Increase the amount of disinfecting wipes you usually order for clients to use for wiping down machines. Set up processes with staff to check the wipes stations frequently to refill them as needed.
If possible, set up hand-sanitizing stations around the gym in areas that are convenient for clients and staff. You can place hand sanitizer in areas such as reception, retail locations, and bathrooms and you can purchase standing hand sanitizer dispensers to place in key locations. Again, set up processes with staff to make sure they check them often and refill them as needed.
5.           Follow Water Fountain Recommendations
As of the writing of this article, the CDC has no specific recommendations for water fountains, other than to properly clean the surfaces. If you sell bottled water, you may want to stock up for those who want to avoid water fountain use.
6.           Consider Shutting Down Your Sauna
Stay tuned to any specific recommendations made by the CDC and your local public health officials, but it may be a good idea to shut down your sauna(s), as researchers aren't yet sure of the effects of heat on the virus.
7.           Keep the Pool Area Clean
There may be no reason for the closure of your pool or hot tub yet.
According to the CDC, at the time of this article, "There is no evidence that COVID-19 can be spread to humans through the use of pools and hot tubs. Proper operation, maintenance, and disinfection (e.g., with chlorine and bromine) of pools and hot tubs should remove or inactivate the virus that causes COVID-19."
Check periodically on the CDC's recommendations for the pool, hot tub, and other areas and use the same rigorous cleaning protocols you're putting into place for the rest of the gym.
8.         Evaluate Group Classes
Follow recommendations from the CDC and your local public health officials closely and evaluate the risks of continuing group classes. If you want to take a proactive approach, but still want to keep services available to clients, you could try to limit some class sizes or try to schedule classes in the largest space available so that people can spread out from each other.
9.           Communicate Transparently to Clients
Place some simple signs in key locations with reminders for clients and staff to:
– Wash hands often with soap and water for 20+ seconds
– Avoid touching eyes, nose, and mouth with unwashed hands
– Wipe down machines before and after use
– Take advantage of hand sanitizer stations in the gym
– Stay home if you are sick
Be Cautious and Take Care
Protecting yourself, your staff, and your clients should always be a top priority. Contact us if you have any questions about how our services can help you protect your business.