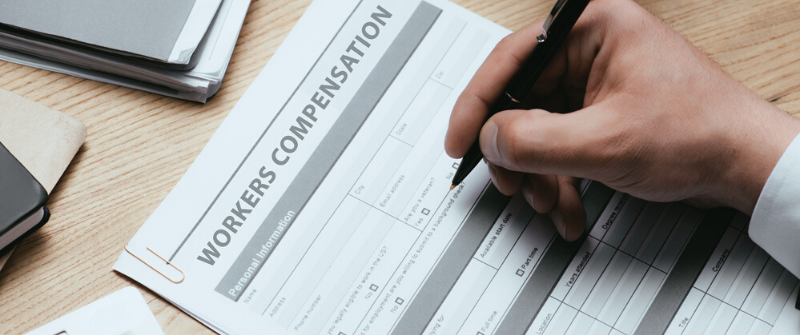 If you're a business owner, labor is one of your most valuable assets. Even if you're the owner of a small facility, it's a good idea to be protected with workers' compensation (workers' comp) insurance. Most states actually require you to carry this insurance if you have one or more employees, and there's no minimum number of employees for enrollment. Owners can choose to include or exclude themselves from a policy.
What Type of Employees Need Workers Comp?
You should have a policy that covers workers' compensation for all full-time and part-time employees. You're not required to carry workers' comp for independent contractors. However, make sure that you don't misclassify employees as contractors. Be sure that you research and understand your state's laws for who should be an employee and who qualifies as an independent contractor, as there are implications beyond workers' comp. Even unintentional misclassification of contractors/employees can lead to significant tax fines and penalties.

Check out this article that breaks down some of the factors you should consider when trying to determine if a person should be an employee or contractor. It's also a good idea to check out the Department of Labor website for your state, to ensure you understand all the labor laws that apply to your business.
Monopolistic States
Some states are considered "monopolistic states" in which it's prohibited for private insurers to sell workers' compensation, and businesses are required to buy coverage from an insurance fund managed by the state government. Currently, monopolistic states for workers' comp are:
North Dakota,
Ohio,
Washington (state), and
The U.S. Virgin Islands and Puerto Rico also have monopolistic models. NEXO can still help fitness facility owners in these states who may need additional stop gap coverage for needs not covered by the state's insurance. In monopolistic states, the state's workers' compensation fund won't cover employer liability for worker injury/illness, so you'll need to purchase that coverage separately.
What Does Workers' Compensation Insurance Cover?
Workers' comp is a type of insurance that offers benefits to an employee or an employee's beneficiary in the event of a job-related injury, and may also cover employer liability. There are optional services within a policy, but benefits can include:
Medical expenses;
Lost wages for an employee;
Retraining costs due to a covered job-related injury;
Death benefits for an employee's beneficiary; and
Legal costs.
Medical costs are often the first type of expense that people think of in relation to workers' comp because they can quickly add up, depending on the type of injury! A workers' comp policy will cover the cost of everything from an ambulance to an ER visit, hospital and surgical treatments, prescriptions, physical therapy, and more. This coverage can be critical to prevent huge out-of-pocket costs for both you and your employee, and can provide you peace of mind by knowing you're taking care of your workforce.
Oftentimes, when an employee is injured on the job, they may not be able to return to work right away. A workers' comp policy will cover part of the employee's wages lost due to a workplace injury.
If an employee's job-related injury has caused permanent or temporary disability that requires them to be retrained for another role or to be retrained after a period of not working, workers' comp may cover the retraining. This type of benefit may depend on your policy and on the laws in the state where you live.
If the unthinkable happens—if a workplace injury leads to an employee's death, a workers' comp policy can help ease the burden of this tragedy by providing benefits to cover funeral costs and other survivor benefits, including financial support to the surviving family.
If an employee makes an allegation that negligence on your part caused the job-related injury, the employee may try to sue. Workers' comp insurance can include liability insurance for this type of situation, covering attorney's fees, court costs, and settlement costs.
What Isn't Covered by Workers' Compensation Insurance?
A good workers' comp policy can offer you peace of mind and may help your employees feel secure in their work environment. However, insurance is never intended to cover injuries that happen because of preventable negligence or injuries that are not job-related.
Here are some situations in which workers' comp would not apply:
Injuries that occur at work or during the course of work, but are caused by alcohol or drug intoxication;
Injuries that occur because you (the employer) were not properly following company policies or safety protocols;
Injuries claimed after an employee has been fired or has quit;
Independent contractor injuries (remember to make sure that you don't misclassify independent contractors);
Wages that you pay to workers covering for the injured employee; and
Fines for Occupational Safety and Health Administration (OSHA) violations.
How Do Premiums Work?
Insurance companies establish rates for worker's comp premiums, depending on the size of your payroll. After completing a short questionnaire of your company and needs, we can give you an estimate which will be in place for the first full year of the policy. If employees are added throughout the year, they'll be covered on that policy without any change to the cost until the end of the policy year. At the end of each year, we'll conduct an audit to determine an accurate payroll, at which time the premium is adjusted. This means if you've added employees, your premium may increase, but if your payroll has gone down, you may be due a refund.
How Do Claims work?
You should establish policies for employee injuries and make sure that employees are trained on them. Your policies should establish procedures for:
Administering first aid;
Determining the need for and arranging for emergency medical care;
Evaluating the safety of the environment following an injury;
Internal reporting of the incident;
Completing and filing an injury report; and
Follow-up with the employee.
When you need to file a worker's comp claim, you'll contact NEXO to submit an incident report. Some states will require a report to be sent to their state workers' compensation agency. Again, it's very important for you to familiarize yourself with your state's labor laws, including requirements for workers' comp. Different states may have different requirements and methods for how you determine what qualifies as an appropriate workers' comp claim and how it should be reported.

After a claim is filed, it's important to stay in touch with us. If your employee doesn't return to work immediately, make sure you have periodic contact with them and set a timeline for when the employee might be ready to return to work.
How to Get Started
NEXO makes setting up your workers' comp policy simple with our pay-as-you-go premiums. We'll help guide you through the administrative work of annual payroll audits and we can provide help with regulatory insurance agencies.
The details of how much insurance is needed for your company depends on your gross revenue, membership numbers, and the value of facility property. Each service within a workers' compensation policy is optional, so it's a good idea to consider what is best for your organization. We want to make sure people purchase the correct amount of insurance, so the best way to get started is to contact us for a free analysis of your workers' compensation insurance needs.
Because we're focused in the fitness industry, we're experts on the particular needs of our clients, and with more than 3,000 facilities covered by NEXO policies nationwide, we're able to leverage our buying power to benefit our clients.
Contact us to get started today!