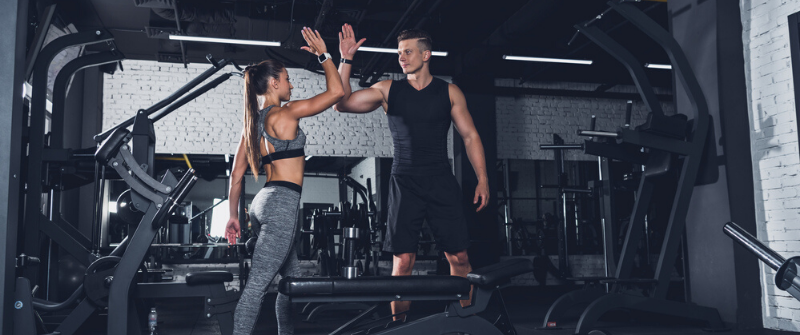 No matter the size of your fitness center or its scope of services, you've probably made a significant business investment in your gym equipment. For some businesses, it's important to boast the latest-and-greatest models with all the bells and whistles, while for others, equipment may be more modest and functional—tools to help clients reach their fitness goals. Whatever your set-up, whether you lease or buy equipment, it's important to protect these critical assets to prevent significant financial loss.
What types of equipment should be insured?

Gyms have a number of different types of equipment. It's a good idea to inventory what you have so that you can get an appropriate quote for your insurance. Gym equipment that you may want to cover with your insurance include:
Cardio Equipment: This includes treadmills, elliptical machines, rowing machines, cross-country ski machines, stair-steppers, and stationary cycling equipment, among others.
Strengthening and Resistance Equipment: This can include free weights, bench presses, weight-lifting machines, squat racks, cable and pulley machines, Pilates machines, and more.
Other Fitness Equipment: Other than machines, fitness centers often have equipment including exercise mats, resistance bands, medicine and stability balls, climbing ropes, benches, foam rollers and ab rollers, punching bags, among many other items.
Business Equipment and Property: You don't just have fitness equipment to run your gym—there are computers, refrigerators, furniture, signs, and many other items essential for day-to-day business. Insurance to cover these items is necessary as well.
The inventory of equipment that each gym might have is unique, which is why NEXO tailors coverage to your needs, making sure you get the proper amount of coverage.
What is Covered Under a Gym Equipment Insurance Policy?
NEXO offers general liability insurance for fitness centers which covers things like injury to patrons or advertising risks, but doesn't cover damage to the gym's property and gym equipment. The property insurance even covers reimbursement of lost revenue if you're forced to close your doors because of a covered loss.
NEXO property insurance, including insurance for gym equipment, includes coverage for:
Theft,
Perils such as fire, smoke, wind, hail, etc.,
Vandalism,
Water damage, and
Certain gym equipment breakdowns.
We're the only company to design a property insurance policy specifically for fitness facilities. Your business property such as flooring and window glass are covered, as well as the unique property of a fitness center—your gym equipment.
Contact us to learn more for a free, customized quote, and to learn more about deductibles and coverage limits.
How NEXO Can Help
NEXO is a smart choice for gym equipment insurance because we insure thousands of fitness facilities across the country—it's our area of expertise. Our vast network and industry expertise gives us better collective purchasing power that benefits our clients directly.
NEXO can provide you a free analysis of property insurance that includes your gym equipment and is tailored to your business's unique operations.
If you're a broker looking for innovative insurance solutions for your clients, we invite you to learn more about NEXO Insurance Services. With a focus on technology, flexibility, and customer service, NEXO offers a wide range of insurance products and services designed to meet the unique needs of today's businesses.
By partnering with NEXO, you can offer your clients the peace of mind that comes with knowing they have the right insurance coverage in place. To learn more about NEXO Insurance Services and how they can help you grow your business, visit our Agents & Broker website or contact us today.