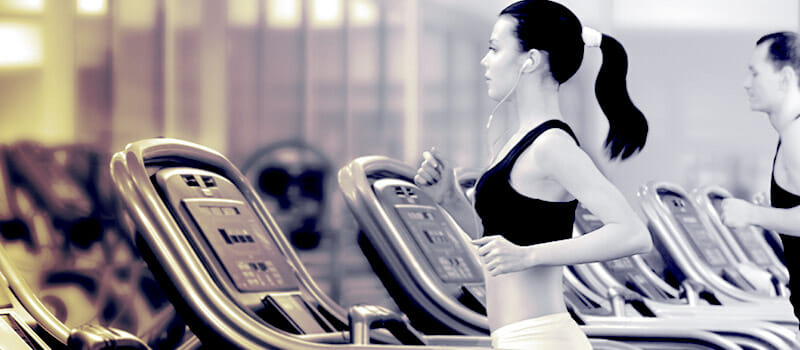 A recent nationwide survey of adults ranging in age from 18 to 65 revealed the average American spends $155 per month on gym memberships, personal trainers, nutritional meal plans, supplements, and fitness gear. These expenses total approximately $112,000 throughout a person's life, more costly than a four-year degree at a public institution of higher learning. American's investments in fitness make opening a gym business a potentially lucrative opportunity. Plus, you get the non-economic reward of helping people meet their fitness goals and contribute to reducing the nation's obesity epidemic.
Starting any business requires you to do your homework. You might have a number in your head of the cost of starting your gym business, but you need to ensure you have all the information.
Below we highlight the average cost of building a gym business and break it down into factors that contribute to the average cost.
Overall Cost of Building a Gym Business
If you are looking to create a small space for cycling or yoga, your startup costs will come in at the low end between $50,000 and $60,000. Medium-sized facilities will typically cost you at least $120,000 or so, but depending on your exact business plan, you can easily spend a few hundred thousand for a medium gym business. If you are looking to build a state-of-the-art facility with all the bells, whistles, and amenities, you can count on spending at least a million.
Below we breakdown the overall cost to give you a sense of where your money is going when you build a gym business.
Factors Included in the Cost of Building a Gym Business
When you build a gym business, you will have recurring weekly, monthly, and yearly expenses for payroll, utilities, insurance, and more. You will also have several one-time expenses and first-time expenses; it's these costs that can vary greatly and determine the overall cost of your startup gym business. Some costs are mandatory. Other times you will need to make decisions about how much you want to invest, and your choices will determine your overall cost.
Factors included in the cost of building a gym business include:<
✔ Property Expense
The amount you spend on your property will be the largest variable in determining your overall cost for your startup gym business. You need to consider how large of a facility you want to purchase or lease based on which services and amenities you want to provide to members. You can easily spend more than $750,000 to purchase a facility, and maybe more if you want to build it out to your specifications.
✔ Equipment and Supplies
Gym equipment and supplies is another large cost of building a gym business. For a small studio, you might only need to spend $10,000 for basic machines and weights. If you want a fully-equipped commercial grade gym, you can expect to spend at least $50,000. You will also need to spend between $500 and $1000 on miscellaneous supplies such as towels, chairs, spray bottles for cleaning, yoga mats, and similar things.
✔ Accreditation
It should be your top priority to have a certified team of personal trainers. Certifications and accreditation can range between $500 and $800 per trainer.

✔ Licenses and Permits
Your city and state might require specific licenses and permits for you to operate your business. Some examples of those licenses and permits may be business licenses as well as building permits for new construction or renovations. You typically also must pass health inspections. Costs can be from $50 to more than $1,000, depending on the specific license or permit required.
✔ Legal and Professional Fees
Starting a gym business means you need to ensure all your paperwork is in order, and you are protected. You will likely use a lawyer, an accountant, and a real estate agent or leasing agent. Most lawyers charge about $200 per hour to draft the legal documents you need, costing new business owners around $10,000. Agents will get a percentage of the lease or purchase amount.
✔ Insurance
Insurance remains a major cost for most business owners, and amounts vary based on the size of the business. You can expect to spend $1,250 to $2,500 each year to protect your equipment, carry liability insurance, and meet workers' compensation insurance requirements.
✔ Technology
Depending on the size of your business, you might choose to have computers and maybe even a point of sale (POS) system if you plan on spending money on merchandise to sell your members. Depending on the software you choose and how many terminals you need, you can expect to spend between $2,000 and $5,000 to get started and continuing monthly service payments ranging from $750 to more than two or three thousand dollars.
✔ Marketing
Another extremely variable cost in opening a gym business is marketing. If you go with the guerrilla marketing route, you will need to at least get some business cards. You can also print flyers for a grand opening to pass out to community members. A full marketing budget will include not only a responsive website but also a social media specialist. You can also purchase television and radio advertisements which can run at least $2,000 per month. You should spend at least double to advertise a grand opening.
NEXOFit Can Help with Building a Gym Business
Building a gym business is an exciting opportunity that can cost between $50,000 and more than a million in startup costs. Many factors, from the property and equipment you choose to the extent you want to take care of your marketing, will impact your cost. All your hard work needs protection from injury and liability related to your employees and members. When you are ready to evaluate your insurance needs, contact NEXO Fitness Solutions to learn how we can help you protect your new gym business.